Foreman Birthday Party—online!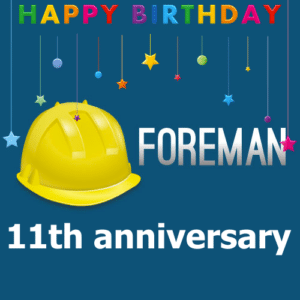 For 11 years now, the Foreman project has facilitated the management of large server infrastructures and is a popular open source component among administrators.
Ohad Levy gave the starting signal for the Foreman project on 13.07 2009 with his first git commit. He doesn't have to work on Foreman by himself. To date, about 450 other developers* have contributed about 8600 commits to the Foreman main project.
Foreman is now more than just an interface for Puppet to provision new servers. The platform can be extended via plugins to a complete lifecycle management tool and can be used to manage large server landscapes with Ansible, Chef, Saltstack, Puppet, patch and package management via Katello, OpenSCAP integration, etc.Foreman is now more than just an interface for Puppet to provision new servers.
The project is currently at a turning point: Foreman 2.0 was released a few months ago and the community is working on other major changes. Reason enough for a proper Foreman birthday party. This year the celebration took place virtually as a video conference. But this was not a disadvantage at all: The Online Party had the advantage that developers* and project interested people from all over the world could participate. On average 40 people were present – from the USA, Europe, and India.
I could now summarize every previous day – but thanks to virtual conference we have everything on video 😉 So I just refer to the presentations here:
Foreman Birthday Party 2020 – Welcome from ATIX AG's Mark Hlawatschek
https://www.youtube.com/watch?v=scFrpIakVcU
Foreman Community Survey 2020 Results – Greg Sutcliffe
https://www.youtube.com/watch?v=lolwYZUnyKg
Making Puppet Optional – Tomer Brisker
https://www.youtube.com/watch?v=IvY_ql9OrLk
Contributing to Foreman without Writing Code – Maximilian Kolb
https://www.youtube.com/watch?v=qfyk30_TkmQ
Katello Pulp 3 and Me – Justin Sherrill
https://www.youtube.com/watch?v=b6HsSm10DLk
After these lectures, we had a relaxed exchange and admired many a remote office workstation from the sofa, to standing workstation up to historical computer equipment in the background. For reasons of data protection there is (unfortunately) no recording of this 🙂
And another "positive" thing: traditionally, at a birthday party there is of course a cake. This year we did without this and instead donate the money to https://www.savethechildren.org/. This is how 166€ came together! Many thanks to all donators*.
In conclusion, we can say that the Online Foreman Birthday Party 2020 was a complete success and hopefully next year we can all get together again. The idea, however, is that future Foreman Birthday Parties should be a "hybrid conference" – presence event and online video conference in one!
The following two tabs change content below.
Latest posts by Bernhard Suttner (see all)