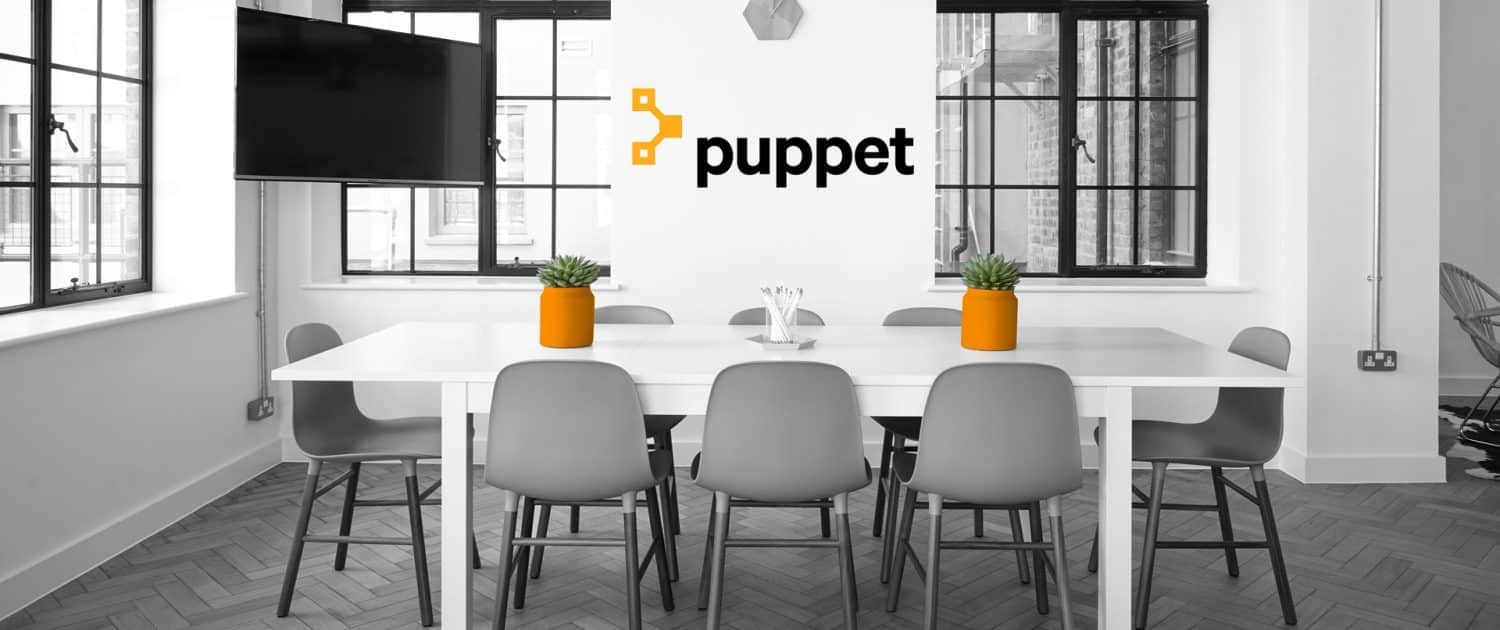 Who are the Puppet Trainings aimed at?
Official Puppet Training at ATIX! We offer an easy to understand beginner course, as well as courses for experienced Puppet users. There's something for everyone who wants to be a Puppet expert!
Getting started with Puppet
Getting Started with Puppet is a three-day course with a practical approach. The course is designed for users who are new to managing their infrastructure with Puppet's products. The course provides a quick way to control your IT environment with Puppet, Puppet Discovery, Tasks and Bolt, the Puppet Development Kit (PDK) and the Puppet Forge. This gives you the tools and resources to automate your Infrastructure and get it up and running faster than ever before.

In the Puppet Practitioner course, students learn how to optimally manage their Puppet infrastructure and how to create, use and maintain modules based on best practices.
This course is designed for students who already have experience with Puppet, but want to learn more about experienced system administrations and professional DevOps with a solid understanding of configuration management strategies. Participants should have completed a Puppet fundamentals course or have practical experience with Puppet — at least six months to a year.
How to set up a Puppet development environment

How to control an unmanaged IT infrastructure

How and when to perform ad hoc tasks with Bolt and Puppet Tasks.

How and when should the system state be managed with the help of Puppet modules?

How to manage Windows and Linux servers with a common Puppet code base.

How to find, download, wrap and use Puppet Modules from the Puppet Forge.

How to classify test nodes to enforce configuration

How to collect and analyze results in the Enterprise Console
More advanced Puppet DSL constructs that can be used to write elegant code.

Use of data structures.

Use custom facts to read information from nodes.

Module design based on concepts such as modularity and combinability.

Methods for testing the Puppet code and infrastructure.

Use of MCollective from the command line to automatically orchestrate infrastructure.

Standard log files and troubleshooting techniques.

The Roles &Amp; Profiles design pattern and its advantages.

Several different methods to manage components of files.

Why the anchor pattern Is present and when to use it, or the ' contain ' function.

Create general modules and how to make them available to the community through Puppet Forge.

Sharing functions between classes through inheritance.
Registration – Getting started with Puppet
Monday 18.12.2019 – Wednesday 20.12.2019
Registration – Puppet Practitioner
Monday 04.11.2019-Wednesday 06.11.2019
Once this course is complete, students will be able to implement basic system configurations with best practices for Puppet into a master agent setup.
Upon completion of this course, participants will have in-depth knowledge of the Puppet DSL and the common architectures. The course provides problem-solving techniques and a better understanding of the Puppet best practices.
All Puppet trainings are conducted by Mr. Martin Alfke. Martin Alfke is cCo-founder and managing director of example42 GmbH, Puppet Certified Professional 2013 & 2015 and Puppet Certified Consultant. Example42 GmbH is an official Puppet training and service delivery partner. Martin Alfke has been working with Puppet since 2007 and has been conducting the official training sessions in europe since 2011.
Unless otherwise stated, the training courses will take place at the premises of ATIX AG, Parkring 15, 85748 Garching near Munich. Please note that our training courses are designed for a minimum of 4 to a maximum of 8 participants. If there are less than 4 registered participants, we reserve the right to cancel the training up to 2 weeks before the start.
The following services are included in the booking:
The corresponding training in a fully equipped training room with a physical computer and possibly several virtual systems for each participant.

Training documents

Lunch and meals during the training course

Use of the WLAN in the training room
Not included in the price: Arrival and Hotel
If you have any questions about dates, venues or wishes, please contact us directly.
E-Mail: vertrieb@atix.de
Phone: +49 89 4523538-0
A new European data protection regime will be in force from the 25.05.2018 onwards. The following applies to you as a participant in an ATIX training.
The personal data collected by ATIX is for the sole purpose of providing you with information about your upcoming training. The stored data will only be documented internally and will not be passed on to third parties.
By clicking on the "Login" button, you agree to the ATIX internal use of your data. Detailed information on the collection of your personal data can be found here.
Your consent under Article 6 I (a) and 7 EU GDPR and Section 7 II No. 3 UWG are the legal basis for this.
This post is also available in: German