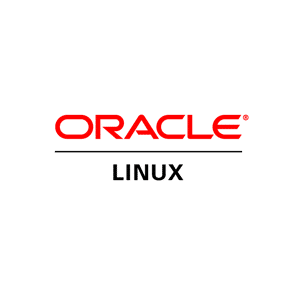 Oracle Linux is the best-known enterprise support derivative based on Red Hat Enterprise Linux (RHEL). The specially developed "Unbreakable Enterprise Kernel (UEK)" is based on newer kernel versions and includes Oracle's own extensions. With official support of Oracle products, especially in the area of databases, this distribution is particularly recommended for companies that want support for databases and operating systems from a single source.
Official support of Oracle own products (especially databases)

Free download, use and updates after registration

Service packages with a term of up to 10 years (optional)

Own Unbreakable Enterprise Kernel based on newer kernel versions

Extensions: BTRFS, OLTP, InfiniBand, SSD access, NUMA optimizations, Reliable Datagram Sockets (RDS), async I/O, OCFS2 and Network

"hot kernel patching" with ksplice.

Operating System Level Virtualization with Linux Containers (LXC)
Planning and implementation of Oracle Linux installations.

Customized solutions for the special requirements of your infrastructure.

Help and advice for your existing infrastructure.
This post is also available in: German